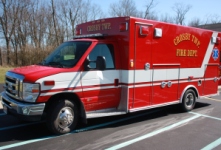 FIRE DEPARTMENT
The Fire Department provides both fire protection and emergency medical services. Currently, we have 33 employees that rotate to provide 3 personnel on duty 24 hours per day, 7 days per week. All members are certified as both firefighters and basic EMT's or Paramedics. They have also joined forces with WestJad to provide 24 hour paramedic services. All members are trained in Hazmat, rope rescue, auto extrication and water rescue. Several are certified Fire Inspectors and Fire Instructors.
In addition to responding to fire and EMS emergencies, the crew is responsible for conducting yearly fire inspections on all businesses in Crosby Township, hydrant inspections twice per year, and public education for Crosby Elementary and other local groups. The Department provides free blood pressure checks at Station 28 from 8am - 5pm daily, will change smoke detector batteries for residents, provides burn permits to residents, installs car seats properly and is open to the public for tours.
MAINTENANCE DEPARTMENT
The Crosby Township Maintenance Department is responsible for road maintenance, drainage, and snow removal on approximately four miles of roadway. The maintenance department is responsible for maintaining the Shaker, Fernald, and Atherton Road cemeteries as well as maintenance on all township properties and equipment. Crosby Township Maintenance is also responsible for maintaining the two Crosby Township Parks as well as the recreation area at the Senior Center.
The phone number for the maintenance building is 513.738.2046. The Supervisor can also be reached on his Township cell phone at 513.317.1462.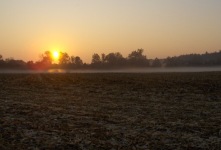 ZONING DEPARTMENT
The Zoning Department was to established to plan, create goals for land use development, and oversee the future growth of Crosby Township. The Zoning Commission consists of five members who hold public meetings to develop and submit a recommended plan of the zoning in the unincorporated area of the township. They are also responsible for amending the zoning plan and keeping it up to date. Our Zoning Inspector enforces the zoning regulations. The Board of Zoning Appeals is empowered to hear variance requests from specific zoning standards, hear requests for conditional uses, hear and decide appeals, and hear requests for changes in non-conforming uses. The Zoning Inspector is in the office on Monday evenings from 6:30-8:00pm. He can also be reached by calling 513.317.2884.