CONTACT INFORMATION:
Melba Guard, President (513) 367-2186
Tony Torres, Vice President
Charles Heis, Treasurer
Shirlee Morgan, Secretary
As written in our Constitution, the purpose of our Society is to encourage the preservation of historic structures and sites; identify, collect, and preserve literary, graphic and artifactual materials significant to prehistoric and historic cultures, schools, churches, businesses, and families of Crosby Township; to increase community awareness and appreciation of this heritage through documentation, educational programs and other public events; and to assist persons interested in this history by making our collected cultural resources available for study.

The Society board is governed by seven members as listed: Melba Guard, President (513 367-2186); Tony Torres, Vice President; Shirlee Morgan, Secretary; Chuck Heis, Treasurer; and three Trustees: Mike Minges, Duane Singleton, and David Roessler. The board meets on the second Thursday, March through December in the Senior Center at 7:00 p.m.
The Society's regular meetings are on the third Thursday, March through December in the Senior Center at 7:30 p.m. The general public is invited. The regular meeting consists of a business meeting, a presentation on various topics given by an invited speaker, and refreshments. On occasion the Society goes on field trips to interesting places. The following is a list of programs for 2018:
March 15 Show and Tell/Election of Officers
April 19 Hope Restored presented by Beverly Meyers
May 17 Doolittle Raid Over Tokyo presented by Mike Minges
June 21 The Cincinnati Courthouse Riots presented by Stephen J. Rolfes
July 19 Cincinnati Memories – Western Cincinnati presented by Jeanne Rolfes
August 16 Knollman Farms presented by Carol Colgate
September 20 Picnic at the Passmore Log Cabin (at 6:00 p.m., covered dish)
October 18 Portrayal of Mary Cunningham, the Body Snatcher's Wife presented by Joyce Browning
November 15 Germans in Cincinnati During WWI presented by Donald H. Tolzmann
December 20 Christmas Party with entertainment
Dues have been increased this year as follows: $10 per individual; $15 per family (in the same household); $100 life membership.
A check for dues should be made out to Crosby Township Historical Society and sent to Chuck Heis, CTHS, 8910 Willey Road, Harrison, Ohio 45030.
The election of officers was held at our March meeting. Elected to the office of President was Melba Guard. All other officers remained the same.

At the April meeting the Society honored long time members Sue and Earl Corson for their many years of dedication and their service in various offices and committees. They were presented with a certificate of appreciation by the new President, a gift certificate from Cracker Barrel, and a delicious cake which was shared by all present during refreshments.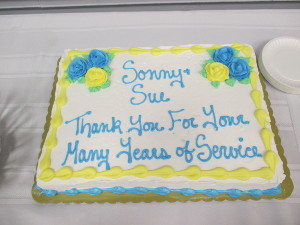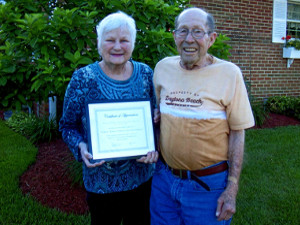 On Sunday May 20th, the Society participated at Crosby Day at Stricker's Grove. To introduce ourselves to community attendees, we displayed on our reserved table our history books that could be purchased, membership brochures, and photos of the Old Town Hall renovation. Chances were sold guessing the number of cheese puffs in a jar. Craig Holder, resident of Crosby Road, won the cash prize. During the day the township sold chances to door prizes that were donated by local businesses and organizations. Diane Marcum won our door prize of a one year family membership and a copy of the Bicentennial History of Crosby Township book.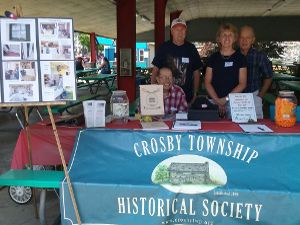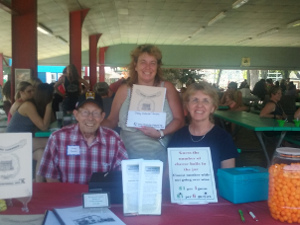 At the 103rd Memorial Day Celebration, the Society was represented by Cliff and Melba Guard who rode in the parade in Cliff's decorated truck. During the program the two of them along with Alice Greene, Women's Army Corps veteran, read the names of soldiers buried in the New Haven Cemetery. The Old Town Hall was open to visitors who could see a slide show on the progress of the renovation and enjoy refreshments.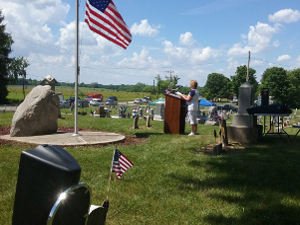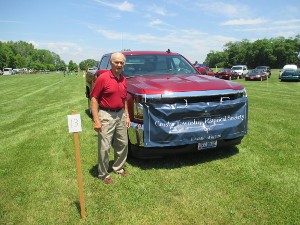 On the afternoon of June 9th, the Passmore Log Cabin and the Old Town Hall were among the five locations opened to visitors for the Passport to the Past event. Historic sites also included the Governor Othniel Looker home, Harrison Historical Society's Museum, and Whitewater Shaker Village. Participants received a passport at one of the locations and had them stamped at each one they visited. Society member volunteers at our two locations stamped passports, gave a short history of their location, and answered questions. Visitors, who had all five stamps, received a plant at the Whitewater Shaker Village.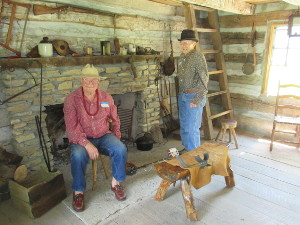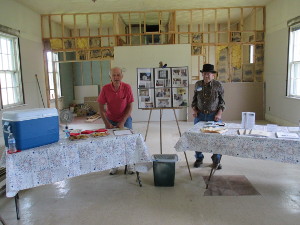 Congratulations on New Haven's Bicentennial, 1818 - 2018
On March 10, 1818, Joab Comstock and Charles Cone purchased 100 acres in the southwest corner of section 11 in Crosby Township. They had Joseph Sater Sr. survey 20 acres of the southwest corner of section 11 to create a village named New Haven after their home place in Connecticut. This year marks the 200th year of that event. Our Society purchased two banners to commemorate this Bicentennial which will be hanging at the log cabin and old town hall.




NEWSLETTERS:
2012 Jan-Mar
2013 Jan-Mar
2014 Jan-Mar
2015 Jan-Mar
2016 Jan-Mar
2017 Jan-Mar
2018 Jan-Mar
2012 Apr-Jun
2013 Apr-Jun
2014 Apr-Jun
2015 Apr-Jun
2016 Apr-Jun
2017 Apr-Jun
2018 Apr-Jun
2012 Jul-Sep
2013 Jul-Sep
2014 Jul-Sep
2015 Jul-Sep
2016 Jul-Sept
2017 Jul-Sept
2012 Oct-Dec
2013 Oct-Dec
2014 Oct-Dec
2015 Oct-Dec
2016 Oct-Dec
2017 Oct-Dec